Where do you live?
We live in west Auckland – our home is in a great location that isn't too far away from the CBD yet feels like a million miles away in amongst the native bush.
Who do you live with?
My fiancé Heidi.
How long have you lived in your home and what initially attracted you to it?
We've been here for about two-and-a-half years now. We absolutely fell in love with the place the moment we saw it. In fact, Heidi burst into tears. It was the setting in the native bush and the harbour views – it felt completely relaxing the moment we stepped into it. We both have pretty busy lives so to feel like we've escaped that to our own little sanctuary every night is really important to us.
What is it about your home that makes you feel at ease?
For me, it's the natural environment. It's very peaceful out here and our mid-century house is surrounded by native bush, with some great walking tracks nearby. We're just a five minute walk to the local beach, which is ideal in summer.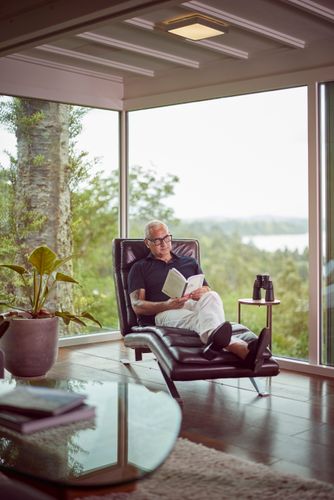 Describe your perfect Sunday at home:
A bush trail run to start the day then home for breakfast and coffee. Depending on the tide, Heidi and I might go for a swim down at the beach or do a bit of veggie gardening. I love cooking and on Sundays I enjoy nothing more than pottering around in the kitchen and preparing a late lunch or early dinner while listening to some vinyl. Heidi works in the music industry so there's always something new to check out. Of course, 6pm is always news time, followed by a movie and homemade popcorn.
What is your favourite room of the house and why?
The lounge. It has a beautiful, spacious feel to it with floor-to-ceiling windows that look out to some pretty spectacular views of the native bush and Auckland Harbour.
Tell us about your interior design style – do you lean towards a particular aesthetic?
As the house is mid-century, we've gone for that era of style and interior design. We've mixed some vintage pieces, like our Scandinavian oak sideboard, with new furniture – we love our chocolate leather lounger. The overall look is still a work in progress and ideally, I'd love more art. But hey – we've got the rest of our lives, right?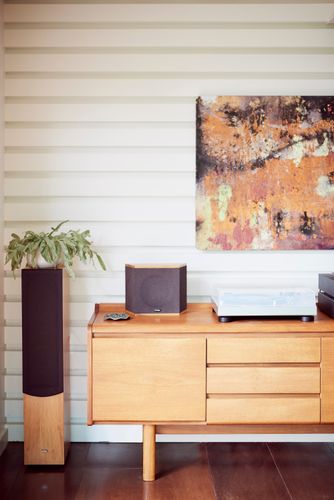 What is your favourite taonga or sentimental piece in your home and what is special about it?
Our taonga is not so much inside the house but right next to it. We have two 100-year-old kauri trees nestled beside the house. We call them Tahi and Rua. I once heard kauri described as 'the whales of the land' and they are the most mesmerising things to watch, particularly on a wet day when rain is running down them.
When it comes to homewares and furniture, do you prefer luxury, new pieces or vintage finds?
We're very much about mixing it up, for instance our dining table is an antique from the Northland Primary School library and the chairs we've matched with it are modern, white outdoor chairs. I think this eclectic combination creates a lovely bach feel to the home, so it's instantly calming and relaxing when you walk in the door.