Interest rate rises, a possible change of government, and waiting lists for international buyers – what will 2023 bring for the New Zealand property market?
As the old quip goes, predictions are tough, especially when they're about the future, and there have been plenty of incorrect predictions from very smart people over the past few highly unusual and uniquely stressful Covid-dominated years. Throughout 2020 and 2021, we saw huge increases in property prices and other asset classes as Government money was pumped into the economy and interest rates hit historic lows. But in 2022, as we started to see the economic side-effects of these policies, interest rates rose along with inflation, the market tightened up considerably, sentiment changed quickly, and Fear of Missing Out was well and truly replaced by Fear of Overpaying.
Will property prices rise or fall in 2023?

Across the country, sales volumes in November 2022 were back 37% year on year, median prices decreased by 12% year on year, and homes took on average 12 days longer to sell than the same time in 2021. It always takes a while for the expectations of buyers and sellers to meet after a period of rapid price growth, but if a listing is coming in now, vendors are generally aware of the state of what is now undoubtedly a buyer's market.
Property prices are still well-above pre-Covid levels, but humans are short term creatures and the principle of loss aversion means we feel decreases more keenly than we appreciate gains. Fortunately for owners, there is a sense that we may be getting close to the low point of this downcycle.
The ANZ suggests that from the peak of the market (November 2021) to the trough (no-one quite knows, but they are picking May), there will be a 22% drop in house prices, but different parts of the market and different regions are being affected in different ways. As A. Bradley Nelson, Sotheby's International Realty's chief marketing officer says in its just released 2023 Luxury Outlook, "conventional wisdom about supply and demand and interest-rate fluctuation would suggest luxury home prices should be falling, but we simply did not see that in 2022. Prices, for the most part, remained steady in 2022."
We experienced a similar scenario in the New Zealand market. For good quality properties that are priced sensibly, we're still doing deals and the prices have remained stable. Where a vendor is 10% or 20% over the market, some buyers are baulking, in part because there are now other options available to them. Some vendors are committed to their price and will hang around until they get what they're asking, and this is more prevalent at the higher end where they may not need to sell.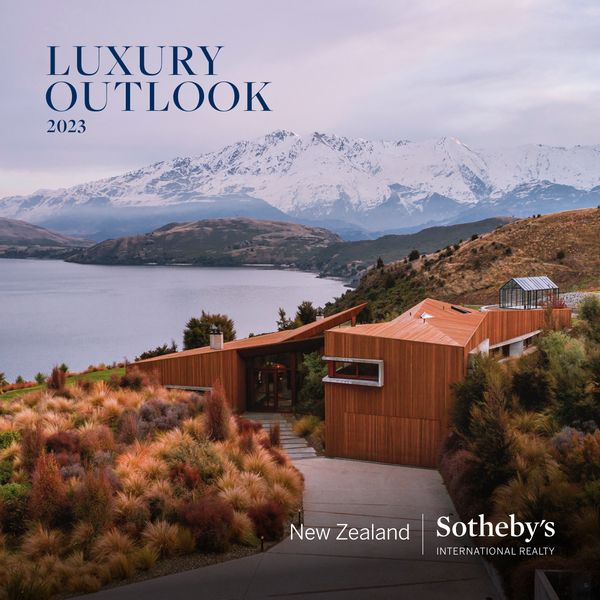 The impact of interest rates on the NZ property market

Interest rates have had a major effect on sentiment (and, so, prices) and what's being done by the Reserve Bank now probably won't be felt until later this year. The 75 basis point hike of the official cash rate to 4.25% in November was aggressive, and the ANZ suggests that it may peak at 5.75% in May.
While some buyers may be waiting due to ongoing economic uncertainty, others see opportunities for good deals in a flat market.
Retail rates aren't going to reverse until those hikes have well and truly flushed through the system and had an impact on inflation. This has definitely affected buyers in the $1-5 million bracket and some potential vendors that may need to refinance if they were to sell have definitely pressed pause. But for properties selling for $7-8 million and up, these sorts of interest rate decisions don't have as much of an effect, because many luxury purchases are made in cash. Added to that, the luxury sector continues to boom as a result of the wealth created over the past few years. As the Luxury Outlook notes, aggregate global wealth over 2021 grew by 12.7% to an estimated US$463.6 trillion, the fastest annual growth rate ever recorded, according to the Global Wealth Report 2022 from Credit Suisse. While some buyers may be waiting due to ongoing economic uncertainty, others see opportunities for good deals in a flat market.
The bigger picture

In New Zealand, our closed borders eased pressure on housing supply, but net migration is nudging closer to positive territory now and is expected to pick up steam this year. Demand for housing is likely to increase with it and immigration also has a very tangible impact on sentiment in areas like the Southern Lakes because without the required labour, many businesses are struggling to cope.
At the high-end of the market, we're seeing more and more interactions with offshore buyers. We haven't seen this much international interest for many years and while there have been media reports of limited applications for the new investor visas [there were 400+ on the waiting list prior to the rule change] we are dealing with consistent numbers of high-net-worth individuals interested in New Zealand.
Factors like the ongoing war in Ukraine, uncertainty in China, and political dysfunction in the US and UK continue to create demand for property in New Zealand. And these people are not just looking for holiday homes. They're looking for places to live. With the current policy settings, they need to invest significant sums into local businesses and commit to spending a reasonable amount of time in the country to be eligible for the visa. Not surprisingly, expectations for housing are very high at this level and there isn't a lot of available stock that fits those expectations. This is where our networks come into play. We are able to approach owners of suitable high-end properties to see whether they would consider selling. That's why, despite price dips in other parts of the market, houses that may have been worth $10 million this time in 2022 may still be worth $10 million now.
One reason those prices are holding firm is that even for those with plenty of money, increasing material costs, delays and supply chain issues continue to put people off building. This tends to maintain the price point of existing homes and, in some cases, negatively affect the price of land.
What buyers want in 2023

House prices in the Southern Lakes region have remained stable and the Cardrona Station development has been very solid, with sections continuing to fetch decent prices. Again, at the higher level, buyers from Auckland or Sydney are thinking long term and are committed to the lifestyle of the area. Many of them are semi-retired or retired and want one foot in a resort and one foot in the city.
Throughout Covid, there was a noticeable shift to lifestyle areas, here and around the world. While cities have bounced back quickly, we're still getting a huge amount of interest out of Auckland and other urban centres from people looking to shift to places like Queenstown, Wānaka, Nelson, Marlborough and Hawke's Bay.
Buyers at the high-end are also increasingly looking for smarter buildings with smaller footprints; buildings that perform well and look good. As the Luxury Outlook suggests, an "of the moment home" tends to include things like energy efficient fireplaces, EV charging stations, cork spray and rain water collection and purification systems (as well as slightly less sustainable but enviable features like salt water swimming pools, plunge pools, massage rooms and floor to ceiling windows).
For NZSIR, the market over the past year has been challenging, but as we do fewer transactions at higher than average prices, we are better insulated against the shifts at the lower end of the market. We see this negative cycle as a time to really think about what we do and don't need in our business. Plenty of real estate agents (and plenty of investors - in both property and the stock market) have only experienced good times post-GFC, but it's the agents that go to great lengths to push properties internationally and attract more buyers during the tough times that will survive and come out the other side with a very solid foundation.
In 2023, it feels like Covid is well and truly behind us, the world is open for business once again, tourists are returning, the labour market is being resupplied through immigration, and inflation is gradually being tamed. There is still economic uncertainty in the air and the prospect of recession still looms large around the world. In New Zealand, the resignation of Jacinda Ardern and a general election later this year means there's also a fair bit of political uncertainty. Those who have been on this ride before know that markets go up and down and policies chop and change, but we believe - and high-end buyers around the world back this up - that investing in high quality property will never go out of fashion.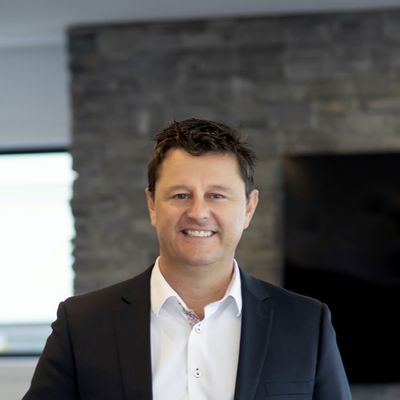 Mark Harris
Managing Director New Zealand Sotheby's International Realty